WALLOPS ISLAND
After weather and technical problems led to three false starts, a $60 million rocket finally left the planet at 7:55 p.m. Tuesday, roaring heavenward from the Mid-Atlantic Regional Spaceport at NASA Wallops Flight Facility.
The 69-foot, four-stage Minotaur I lifted off with the rumble of distant thunder and the brilliance of an acetylene torch, leaving behind a thick contrail rendered pink by the setting sun.
The Minotaur I is carrying a trio of payloads. Because part of the rocket is recycled Minuteman II missile parts, international treaties require the United States to inform the Russians.
No complaints there. The people who shot this vehicle into space want to tell anybody who will listen. They hope they've launched not only a rocket, but a more promising future for this stretch of the Eastern Shore.
Wallops has been the launch site of thousands of small rockets over its half-century history, but the ante has been upped in recent years as dreams of a commercial space business have blossomed.
Tuesday's launch was the third Minotaur sent into space from the spaceport. On board is the TacSat-3, a joint military project designed to test the ability of a satellite to respond to real-time data requests from field commanders on the ground.
The secondary payloads include NASA's PharmaSat, which will conduct experiments on yeast cells, and three CubeSats that will measure electron collection, radiation testing, and guidance and control systems.
The first Minotaur launch came in December 2006, on a pad built eight years before. The second came the following April. Since then, proponents of the Mid-Atlantic Regional Spaceport have made their case for more government investment in the site.
The General Assembly and governor's office have thrown in their support, putting up $26 million to build a horizontal integration facility for assembling rockets and a new launch pad. The goal is to lure space business from other countries and from Florida and California.
To do so, Wallops has three things going for it, said Billie Reed, executive director of the Virginia Commercial Space Flight Authority: "Location, location, location."
Flights from the spaceport head over open ocean, removing the risk of debris falling onto populated areas. The spaceport's position at roughly 38 degrees north latitude makes it an ideal site to send loads into inclined orbits - between the equator and the poles - at a reduced expense.
With the space shuttle program ending next year, there is a rush to fill the role of resupplier to the international space station until new spacecraft come online around 2015.
Orbital Sciences Corp., which helped oversee the TacSat-3, has signed a $1.9 billion deal to fly eight cargo missions to the station from Wallops in the coming years. Officials plan to launch a demonstration rocket, the Taurus II, late next year and follow with a real mission the year after.
The General Assembly has given operators immunity from liability for commercial space flight, to entice entrepreneurs in space tourism. And there are always more payloads that need a ride into space.
Tuesday's launch brought visitors to the area, and officials hope to capitalize on this type of economic boost. Earlier this month, officials from NASA, Accomack County and the Marine Science Consortium signed an agreement blessing the Wallops Research Park, a 200-acre space that will host academic, government and commercial ventures.
The hope is to bring high-tech jobs to a poor county, said Steve Mallette, chairman of Accomack's board of supervisors. In addition to Orbital's deal, Northrop Grumman and Lockheed Martin have a local presence. BaySys Technologies, which retrofits large airplanes for private clients, is also in the mix.
"The technical capabilities are here," said John Campbell, Wallops' director. "We need financing... and that financing is coming."
State Sen. Ralph Northam, who toured Wallops earlier this month, said the area has struggled to keep up and adjust its farming and fishing economy to the modern age. The challenge for incoming industries, he said, is to convince locals that economic development won't come at the expense of the environment.
"We've got lots of green lights here," he said, "and we're ready to move forward."
By two minutes after launch Tuesday night, the Minotaur was 62 miles up and moving at 5,500 mph. Two minutes later, it had reached 13,000 mph.
Thomas Cooley, TacSat-3's project manager, announced that Kirtland Air Force Base in Albuquerque, N.M., had made contact with the satellite.
"Now it's our turn to spend the next year demonstrating the things we've been preparing for," he said.
Matthew Jones, (757) 446-2949, matthew.jones@pilotonline.com
---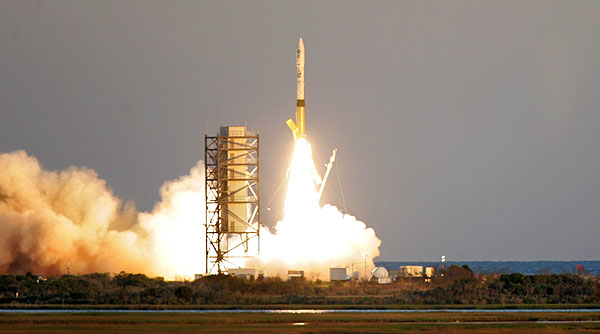 ---

Interactive:
Explore the Minotaur I
and its payload